The Scrimshaw Workshop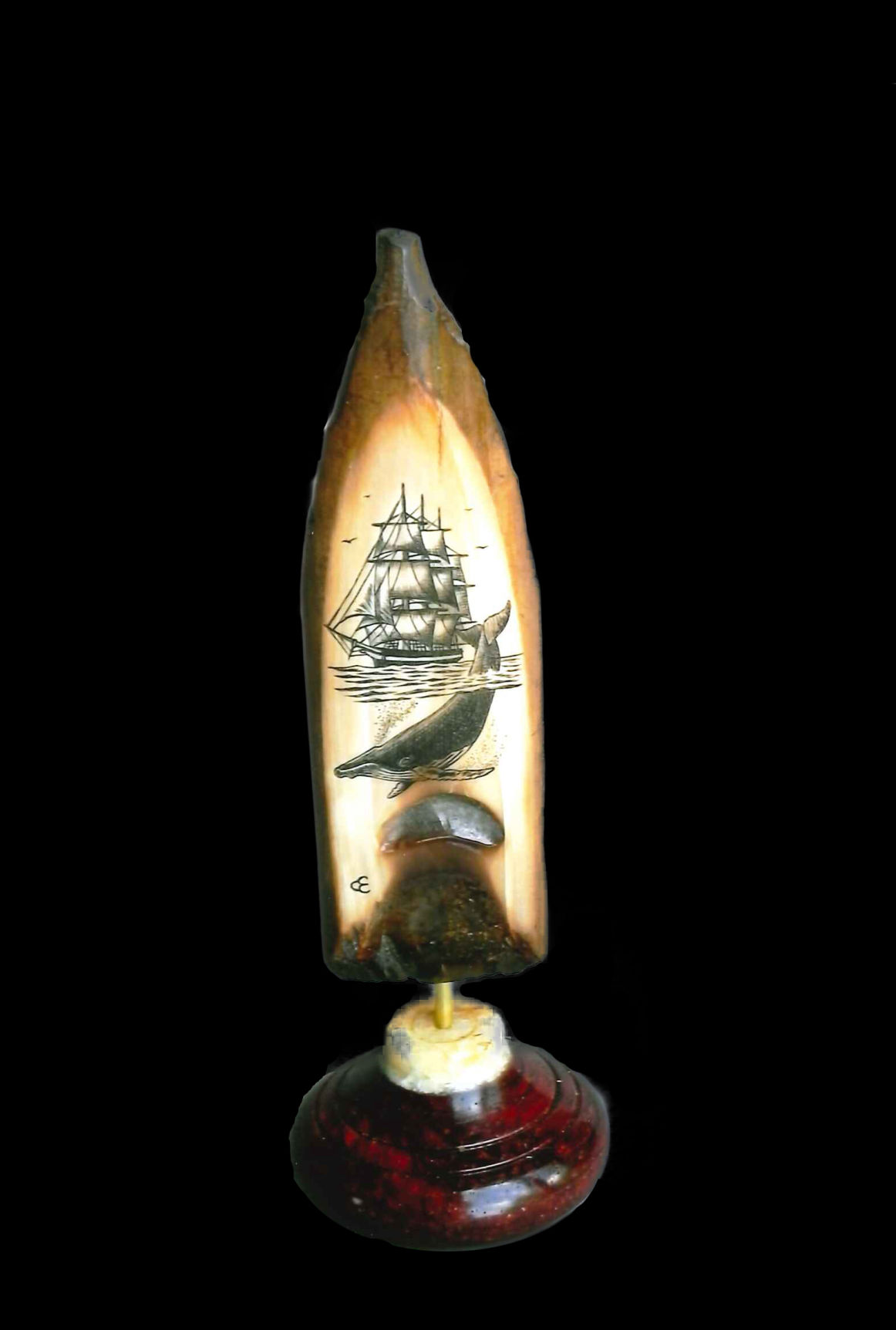 Greetings! Especially to all of my past scrimshaw customers and friends. After 40 years of having The Scrimshaw Workshop in Bar Harbor (18 years out of town on Rt 3 and 22 years downtown" I finally decided to "retire" from having a shop. The Mount Desert Islander did a nice article about me, which you can see by clicking here. For anyone not familiar with my "history", this article tells the story pretty well.
My goal is to have a great scrimshaw website that will be very similar in offering an extensive selection of scrimshaw that I had at the shop. That is to say, I won't just be selling the more expensive display pieces, but will be also be selling men's and ladies jewelry, knives, desk accessories and much more, with a price range for every budget! The pieces will include my own scrimshaw as well as the work of some of the top scrimshanders from around the country, just like the shop.
My 2021 Craft Show Schedule
May 29 – 30 Island Arts Assoc. Bar Harbor, ME 10-5
June 19-20 Island Arts Assoc. Southwest Harbor, ME 10-5
July 2 Windjammer Days Festival, Boothbay Harbor, ME 9-5
July 4 Island Arts Assoc. Bar Harbor, ME 9-3
July 17 -18 Casttleberry Fairs, Alton Bay, N.H 10-5
August 7-8 Scituate Heritage Days, Scituate, MA SAT 9-7 SUN 9-6
August 14-15 Island Arts Assoc. Southwest Harbor, ME 10-5
August 21-22 Castleberry Fairs Gloucester Waterfront Festival Gloucester, Ma SAT 9-6 SUN 9-5
September 4-5 Island Arts Assoc, Bar Harbor, ME SAT 10-6 SUN 10-5
September 11-12 ¨Summer Solstice¨ Craft Show, Wells, ME 10-4
September 18-19 TBD Boothbay Commons, Boothbay, ME or Market SquareDay, Portsmouth, N.H
October 1-3 Freeport Fall Festival, Freeport, ME FRI 12-6, SAT 10-6, SUN, 10-4
October 9-10 Up Country Artists Sugarloaf Homecoming Show 10-5 Sugarloaf, ME
October 16-17 Joyce´s Craft Shows North Conway, NH SAT 10-5 SUN 10-4
October 23-24 Ogunquit Fest Autumn Bazaar Ogunquit, ME SAT 9-4 SUN 10-3
November 19-21 Eastern Shore Sea Glass Festival Chesapeake Bay Maritime Museum St. Michaels, MD Hours TBD
Remembering my shop
Please take a moment and see this video that a friendly tourist took of my shop!
Please stay tuned! I can't say for sure, because of my busy craft show schedule this summer, when the website will be fully operating but I will be sending out hundreds of letters to many of my past customers to let you know when it is ready.
So, I am sorry to all of my "old" customers who are sad that my shop in Bar Harbor has come to an end. I will miss all of you folks who repeatedly came to my shop over the years. I really hope that when you come to Maine, you might be able to get to one of my craft shows to come by and say hello!
Chris Cambridge
Scrimshander
scrimshaw.workshop@gmail.com